ANOTHER WAY TO SURF...
AN EXCEPTIONAL ENVIRONMENT
La Côte des Basques is probably one of the most beautiful beaches in Biarritz.
Birthplace of surfing in Europe, it offers ideal conditions to start or improve your surfing.
PERSONALISED TRAINING
Charlie has been passionate about surfing, especially at this beach, since his childhood.
Through his personalised coaching, he will lead you to discover and improve your surfing.
He offers classes in small groups (1 to 4 people), same level, at the best time of the tide.
The requirement to insure a high quality experience and optimal progression.
LESSONS ALL YEAR ROUND
Depending on the weather (swell, wind, tide, waves…)
The school is accredited by the Ministry of Youth and Sports, and the city of Biarritz
YOUR INSTRUCTOR
Child of the Basque Country and in love with Biarritz where he grew up, Charlie was lucky to learn to surf at the Cote des Basques, with pioneers such as François Lartigau and Jo Moraïz.
With a teaching experience of over 15 years on this beach, he knows perfectly the different zones to give tailored lessons securely, depending on the weather conditions and the tide.
His participation in the World Championships Surf Masters ISA in 2012 and 2013 have brought him a veritable coaching experience.
He operates with the aim to give a cultural aspect to the discipline according to its history and values.
Charlie will share his passion with enthusiasm and good humour.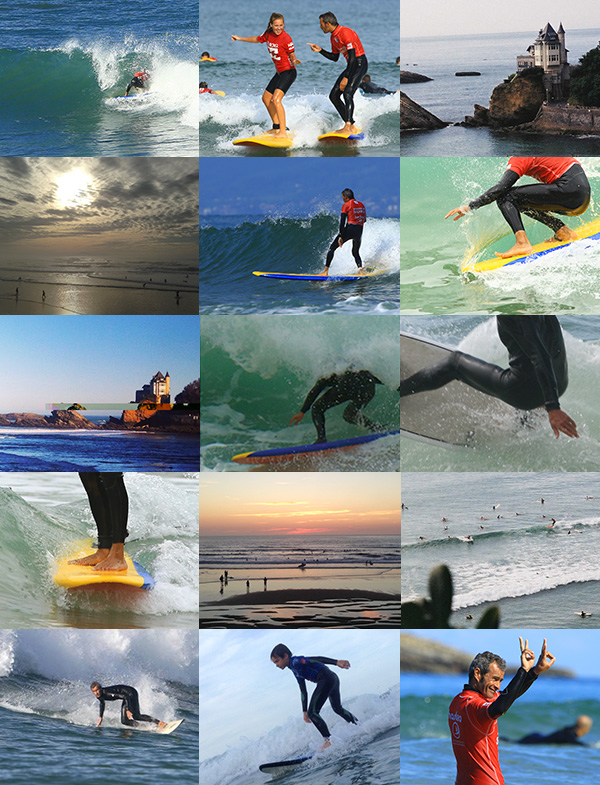 PRICES
Lessons taught by a qualified instructor.
Equipment and insurance included.
GROUP LESSONS
1 lesson 1h30…………….40 €
July – August…………………..45 €
3 lessons 1h30…………115 €
July – August…………………125 €
5 lessons 1h30………….180 €
July – August…………………190 €
PRIVATE LESSON
During 1h………………..100 €
July – August………………..100 €
COACHING • SURF GUIDE
Autonomous surfers (on request)
CLUB
Three months subscription…200 €
(base 10 sessions)
COURSE MAP ON REQUEST
ACCOMMODATION
LE CARLINA « SURF » LODGE.
THE MAGIC OF GLIDING STEPS...
The Carlina Lodge offer a great location on the spot of " Côte des Basques " in Biarritz. With a wonderful view of the ocean, one of the most beautiful of the coast, it offers 19 rooms and 5 apartments, every one with a terrasse which overlooks the beach.
SPECIAL OFFERS WEEK-END « BED & SURF » (except during school holidays and holiday week-ends)

2 lessons + 1 night at Carlina Lodge*
*standard double room
Off peak (1/11 – 31/3) : 170 €
Middle season (1/4 – 30/06 et 1/10-30/10) : 200 €

2 lessons + 1 night at Carlina Lodge*
*double room with annexe for 2 adults and 2 children
Off peak (1/11 – 31/3) : 190 €
Middle season (1/4 – 30/06 et 1/10-30/10) : 215 €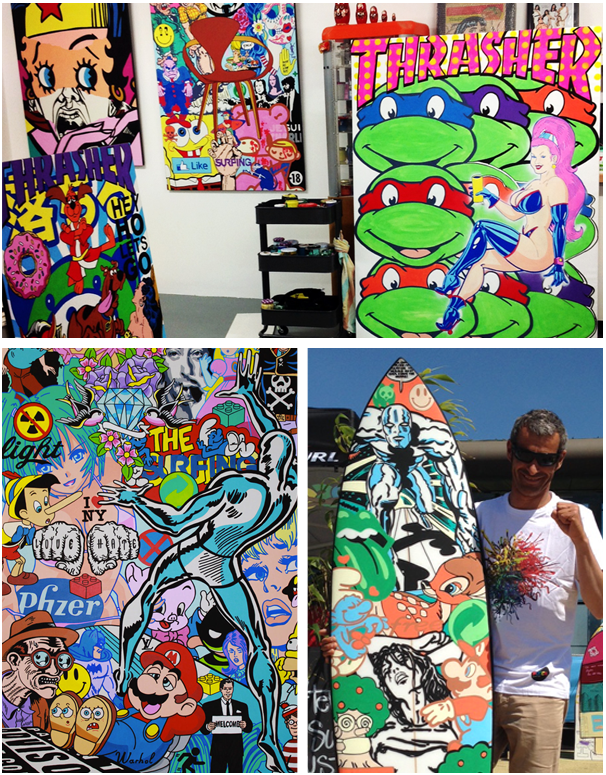 CHARLIE
DON'T SURF
Charlie is also a painter and art enthusiast.
His works are in many private collections in France and abroad.
And he is also exhibited in galleries and art fairs (Affordable Art Fair Hong Kong 2015).
Come and discover his work in his studio gallery " Charlie don't surf! ".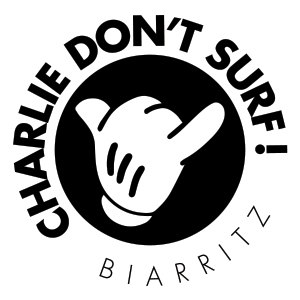 CONTACT
For information or to register, please contact me.
Phone: +33 (0)6 13 89 70 19